Signature Hole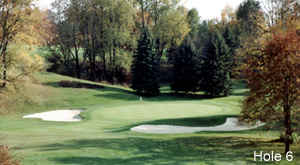 Rawiga's 15th hole, a par 3 with tees ranging from 160 to 216 yards, is a great example of how course architect E.L. Packard took advantage of the site's beautiful rolling terrain. The tee shot is hit over a broad valley that runs through the middle of the course. From an elevated tee located on a parkland-like plateau, the 80-foot elevation change makes the hole play slightly shorter than its listed length.
Bunkers guard the front and left of the green, while a large basswood tree looms on the right. Miss the green and you will be left with a difficult finesse shot that will test even the most talented player. Should you manage to reach the sharply sloping green in regulation, a birdie effort may turn into a testy par putt if your touch is not perfect.
Still, the best part of #15 is the view from the tee. It has a beautiful vista that is unmatched in the height of the fall season. Add plenty of flowers and Tommy's Run babbling below and it makes one realize that the perfect shot is not the only reason you play this game.